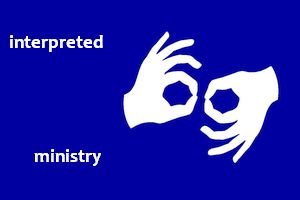 Interpreted Ministry
---
Selected Best Practice, Brief Guides, and Inserts
These guides, which are frequently updated, are intended to provide the best practices and a guide to getting starting in a particular area of ministry. See the complete list here.
ASL Glossary Project
---
ASL in Worship
"See it! Say it! Sign it!" a video about ASL in worship from the Minnesota Conference.

---
About ASL
A few things to know about ASL (NPR)


The story of ASL


"The enchanting music of sign language," a TED talk by Christine Sun Kim.


The history of sign language amd how it started a movement: a review of R. Edwards, Words Made Flesh: Nineteenth-Century Deaf Education and the Growth of Deaf Culture.

How ASL evolves: Internet Slang Meets American Sign Language

"Offer Deaf Children Education in Sign Language" from Human Rights Watch: article and video (captioned, with some signing).

Life Print "American Sign Language University"
ASL Core, signs for academic use.

Signing Savvy, "your sign language resource" allows the user to type in a word or phrase and watch it in ASL. It shows some variations, and could be a good site for reference purposes. Because signs may vary from region to region, these are only examples of possible signs, and users may wish to look into local resources for learning sign language as well.

Signing Families has materials to teach ASL to various groups, such as emergency responders.

Family Health Reference to ASL, how ASL works, phrases for first responders, and interpreting information.
---