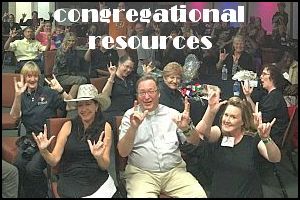 Congregational Resources
---
Best Practice / Brief Guides
Brochures for Deaf Ministry
Bulletin Inserts
Other Guides
The 2011 edition of Breaking the Sound Barrier in Your Church: Ministry & Mission With People who are Hard of Hearing or Late-Deafened includes the CART system, and is now available as an Adobe PDF file. The original edition was written by Bob Walker. The booklet provides much useful information on how to minister to late-deafened and hard of hearing people. The booklet was created by UMCD's Committee on Church Promotion. The National Committee supplied a grant to cover the production cost.
Click here to download Breaking the Sound Barrier .

"Create Deaf-Friendly Worship with Hospitality" by Leo Yates Jr. is available from UM Insight and the UM Disability Blog

The Mardy Walker Memorial Assistive Listening System is available for Committee use and can be loaned to congregations for trial. Rev. Beth Chenault of Strawbridge first borrowed the system from the Committee, to see if it would meet the needs of persons in their new worship service. Then a Committee grant allowed her to buy a system for worship.
Read about the Mardy Walker Memorial Assistive Listening System, including how to borrow it for evaluation in your church.

UM Reporter story, "Loop helps worshippers hear the Word": hearing loop system at Spring Valley UMC in Dallas, Texas.

Read about the new listening system at the UM Church of the Messiah in Westerville, Ohio.

Retuning music for people with hearing loss by Nancy Hale, Worship Arts, May 2015

Online Sign Language Classes and Dictionary (May 2018)
Microsoft Word Large Print Microsoft Word Adobe PDF

Guidelines for Working with Deaf and Hard-of-hearing children in Sunday School, Peggy Johnson (Cokesbury download)

Disability Awareness Sunday article by Leo Yates Jr.

Disability Awareness Sunday materials from the Disability Ministries Committee

Using a videophone as outreach

Learn about the UMC ASL Glossary project, which produced ASL signs for many church terms.