Donations, Grants and Scholarships
---
Micro-Grant 2022
The Deaf and Hard of Ministries Committee (DHM) wants to share a reminder that International Deaf Awareness Week is during the last full week of September (September 19-25, 2022). In the spirit of celebrating Deaf Awareness Week, the DHM is offering $500 micro-grants to United Methodist churches and ministries who will observe or celebrate International Deaf Awareness Week. Previous grant recipients may also apply. Grants are limited. The DHM is encouraging your church or ministry to use this opportunity to highlight, promote, and celebrate Deaf awareness, achievements, and ministries. With International Deaf Awareness Week being a few weeks away, micro-grant applications must be received by August 25th. While the micro-grant application offers some ideas for how to celebrate the observance, churches and ministries are encouraged to think outside the box. Instructions and applications can be downloaded here.
Any questions about the micro-grant application or assistance completing it should be directed to Rev. Dr. Leo Yates.
We hope your church or ministry will consider applying and celebrating with us.
---
DHM provides opportunities for empowering Deaf, late-deafened, hard of hearing, and DeafBlind people through grants for projects and scholarships. Grant amounts range from $3000 to $5000. Projects include seed money for new ministries, international mission outreach, curriculum development, internships, Deaf camps, DeafBlind camps, hiring a Deaf or hard of hearing ministry coordinator, providing communication access and scholarships.
Grant requests are typically approved for new ministries or for existing ministries that are adding a new program (such as an interpreting ministry expanding to include a hard of hearing ministry). While ministry and program grants often have an internal church focus, we expect requests to have an external or wider community focus as well. Thus, grants ought to have a community impact fitting for the church's context, such as teaching sign language at a community facility or offering Deaf awareness training.
Please note that grants and scholarships are only available to United Methodist entities or members.
Grants are awarded in a cycle that closes in January and July each year.
For further information, e-mail us.
Other Sources of Grants and Scholarships
DHM Grant Reports
Donations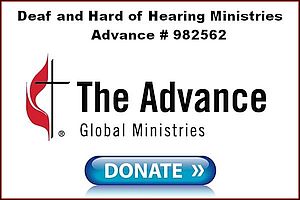 With rising costs and increasing needs, the practice of "Open Hearts, Open Minds, Open Doors" makes funding a vital issue. The United Methodist Committee on Deaf and Hard of Hearing Ministries (DHM) has two basic functions. The primary function is to make people aware of the needs of the Deaf and hard of hearing, so that all persons may be able to fully participate in the spiritual life of the United Methodist Church. A secondary function is to provide funding for programs and projects that further the primary function.
Both of these functions are supported by general funding from the United Methodist Church and by gifts received from members and friends of the United Methodist Church through the Advance Special Giving program.